Update to My Faster PC 7
Includes better performance plus our Browser Add-Ons & My Programs tools.
Version 7 is a free update for all subscribers!
How to Download & Install
1. Close My Faster PC.
3. Click "Run" to download.
4. Click "Run" to install.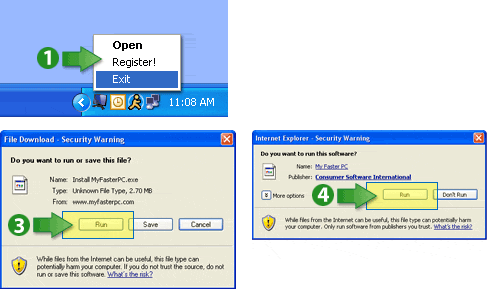 How to Register:
From Version 6 & 5
You do not need to register again. Click "Repair" during installation.
Latest Version: 7.4.4
If you have an earlier version of My Faster PC, you can update to the newest version for free. Just follow the instructions on this page. If you need additional help, contact Customer Support.
Download Information:
Latest Version: 7.4.4
Works with: Windows 10, 8, 7, Vista, XP
File size: 5 MB 1-2 minutes download time.
Notes: Wrapped with Microsoft Authenticode. Uninstaller included.
Guaranteed Safe: Free from Spyware, Adware, and Viruses.
8,139,596
Downloads