About the Disk Cleaner
My Faster PC can removes some of that hidden "junk" on your computer. My Faster PC can clean files from 17 different areas on your hard drive. In particular, it cleans up your internet cache, temporary items and files, memory dump files, and recycle bin. Most of the files we clean out are temporary files created by Windows or other programs on your computer. These temp files are useful initially, but usually don't get deleted, wasting valuable disk space on your PC.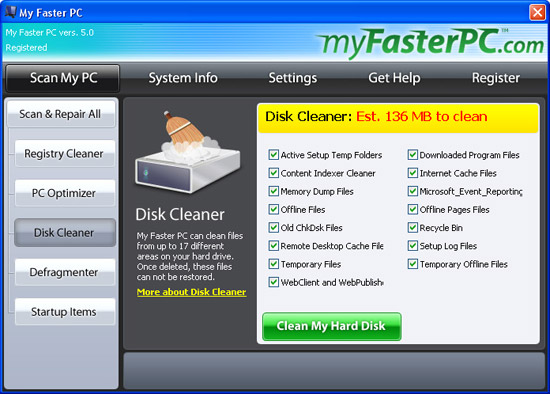 Using the Disk Cleaner
To use the Disk Cleaner, just select the areas you wish to clean out and click "Clean My Hard Disk." My Faster PC will launch the Windows disk cleanup process and remove all the unwanted items. Please note: Disk Cleaner cannot be undone.
What gets cleaned?
Active Setup Temp Folders: Temporary storage areas for setup files.
Content Indexer Cleaner: A storage area for an index of local files used to improve search and find file funcationality.
Memory Dump Files: A storage area for memory dumps saved during system errors.
Offline Files: A storage area the holds local copies of networked files, enabling you to access them when not connected to the network.
Old ChkDsk Files: Lost file fragments saved during disk error checking.
Remote Desktop Cache File: A storage area for the Remote Desktop bitmap cache.
Temporary Files: A storage area sometimes used by programs to store files and temporary information.
WebClient and WebPublish: This area contains a local cache of accessed files.
Downloaded Program Files: A storage area for downloaded ActiveX controls and Java applets saved during internet use.
Internet Cache Files: A storage area for web page, images, movies, and all files temporarily saved to your hard drive during internet use.
Microsoft Event Reporting: A storage area for event data and error reports.
Offline Page Files: The storage area for web pages, images, and files for those who use the offline internet feature.
Recycle Bin: Disk cleanup will delete any files you placed in the Recycle Bin.
Setup Log Files: A storage area for the log files saved during software installation.
Temporary Offline Files: A storage area for cached files used for offline internet use.